We will be serving Pumpkin Ginger Spice this Saturday at Market….may have a few packages for sale.  We launched our first batch at Schlafly Pumpkin Festival on 10/17/15 and sold out.  Pre-order now to be sure you get some.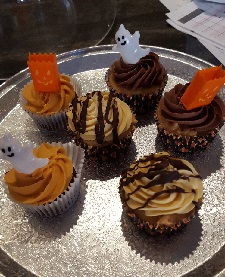 Saturday (Halloween), we will have a limited number of gluten/grain-free (and vegan!) cupcakes from Range Free available for sale at the Tower Grove Market and our shop. Flavors: chocolate, vanilla, and/or her most popular  (so far) lemon tiger cupcakes.
————————-
Many new Tealet (Farmer Direct Trade teas) will be arriving in our shop soon
Our Next sampling session will be Sunday, 11/8/15 3pm (note the later time), we'll be tasting and discussing several of our custom herbal blends, some other decafs, and varied health benefits.
The next Tealet sampling will be of green teas, including some from Malawi. Sunday 11/15/15 2pm
Tasting sessions are: $15 at the door, $12 prepaid in advance (click here to prepay) ….includes 20% off any purchase made that day