We are excited to be in Maplewood, with this event just down the block from our shop!  It is such a novel and fun idea – and we look forward to learning more about our community via the tale they have created.  Shakespeare Festival St. Louis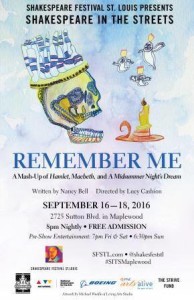 We will be open extra hours for all the thirsty theater attendees – and you can take advantage of the extra hours as well.
Friday and Saturday evening the shop will be open till 8pm,
AND we will be open 4pm –  8pm on Sunday 9/18 (as well as serving/sampling teas at a booth right in the thick of things)
Come share in the fun.