Though we are not yet officially open, yesterday was our first event in our new shop location at 2707 Sutton Blvd in Maplewood – The 4th Annual Maplewood Coffee Crawl [I always forget to take pictures!!]
600 people were registered, and I know we saw many of you!  The flow of tea sampling was pretty constant from 8:15-12:30.  THANK YOU!  and thank you SO much for your warm welcome to the neighborhood.
We are still waiting for installation of sinks, and have some finish painting etc to complete, as well as final inspections.
We'll be sending out an email as well as updating Facebook and Twitter as opening day gets close.
————————————————————–
In the meantime, look for us in the Farmers Market area at Earthday by the Muny in Forest Park on Sunday 4/21
AND/OR attend our food and tea pairing at Something Elegant Catering on Tuesday 4/16.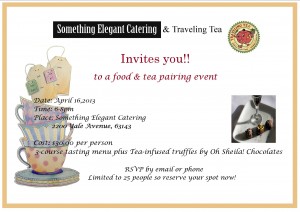 Attendance is limited to 25 guests and we are more than half full at this point – so don't delay.  Recipes and tips for cooking with tea will be shared freely.  Call me or email to reserve your spot  314 477 8516 or kateri @ traveling-tea (dot) com
[Click on the image to open in new window and enlarge so it is readable]