means Pumpkin Ginger Spice tea will soon be available again.
Tower Grove Farmers Market still going, but slowing down as other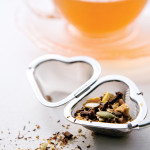 Autumn activities draw the crowds – (I will be on my own a couple of times)
Laumeier Park Harvest Festival on Sunday 10/16 11am-5pm
AND,
a NEW event:
Sunday 10/23/16 Afternoon Tea – Free Style, at Range Free Cafe in Columbia, MO (only 2hrs from St Louis) Seatings available at noon and 2pm. Reservations required, click on the artwork below to make yours!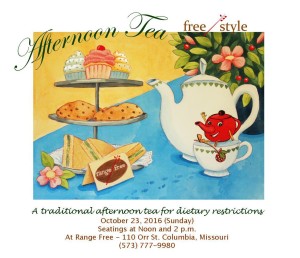 We will be serving Pumpkin Ginger Spice this Saturday at Market….may have a few packages for sale.  We launched our first batch at Schlafly Pumpkin Festival on 10/17/15 and sold out.  Pre-order now to be sure you get some.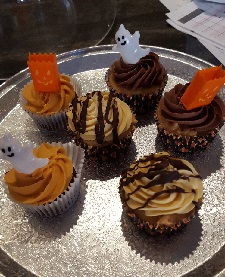 Saturday (Halloween), we will have a limited number of gluten/grain-free (and vegan!) cupcakes from Range Free available for sale at the Tower Grove Market and our shop. Flavors: chocolate, vanilla, and/or her most popular  (so far) lemon tiger cupcakes.
————————-
Many new Tealet (Farmer Direct Trade teas) will be arriving in our shop soon
Our Next sampling session will be Sunday, 11/8/15 3pm (note the later time), we'll be tasting and discussing several of our custom herbal blends, some other decafs, and varied health benefits.
The next Tealet sampling will be of green teas, including some from Malawi. Sunday 11/15/15 2pm
Tasting sessions are: $15 at the door, $12 prepaid in advance (click here to prepay) ….includes 20% off any purchase made that day
My daughter is opening Range Free – an allergen-free bakeshop and cafe in downtown Columbia MO this Fall, and she will (of course) be serving our tea!
With a varied menu of tasty food, made from scratch with the highest quality ingredients, Range Free will appeal far beyond the "free from" crowd. Range Free will give people with and without allergies an opportunity to share meals together!
Once she is open, we will also be able to regularly bring in allergen free foods for you here in St. Louis, to pick up at our shop or at Markets.  I will be able to share a menu of options soon.  Please let me know what foods you are missing and would like us to share with you.