Why buy from Traveling Tea?
This is a question I am asked frequently at the Farmers' Market, along with "Where do you get your tea?".
QUALI-tea:
Traveling Tea sources from 5-7 different suppliers to select a variety of quality loose leaf teas from the primary tea producing regions of the world: China, India, Japan, Vietnam.  Some of our suppliers are established retail sources (Art of Tea, Tea Source, Zhi Tea), others are strictly wholesalers.  Because organic and fair trade practices are important to me, our selection is primarily organic, and fair trade whenever that option is available.  Additionally, I continually search out new sources for the best quality teas based upon your requests.
In 2015 I began working with an intermediary (or broker), Tealet, to Direct Source high quality, hand-crafted teas from smaller families and estates that use practices in alignment with our mission to "Keep the World Safe for Tea Addicts".
We value organic practices and worker ethics, and are currently able to offer speci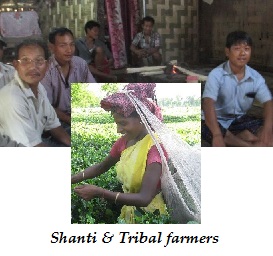 alty teas from India, Japan, Indonesia, Taiwan, Malawi, thanks to this relationship with Team Tealet.  We also reformulated our popular Iced Tea Blend late in 2016 so that we could use more of the teas that help small landholders in northern India & Assam; so when you enjoy & share our Heritage Iced Tea Blend know you are fostering security in an area that very much needs it.
The team at Tealet is able to do what I would do if I had the resources and connections to do so. They travel to the farms and estates, forge the relationships, and vet the teas….making sure the farmers are really doing what they say in regards to worker care and environmental concerns [we stopped carrying Morawaka teas in 2016 because my experience did not lend confidence of their words and I had no way to verify].
SAFE-tea:
We do not buy teas that have synthetic or artificial flavors.  The majority of our "flavored" teas are free from gluten and soy lecithin.  If we are not certain, it will be stated on our menu and website, but please also inquire so that we can be aware when suggesting teas for you.
Most of my own cu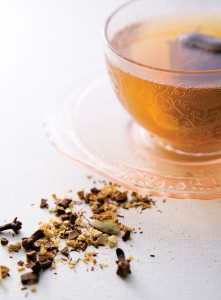 stom blends use no flavorings at all (safe for those concerned about gluten and how flavorings are derived) unless I use flavored tea as a foundation (as in Gwy-u-latte).
VARIE-tea & Convenience:
Our per ounce prices may seem high in some instances, because we buy in small quantities to retain freshness, and repackage in even smaller quantities – 1 and 2 oz packages* – so you can affordably enjoy a variety of quality teas.  I have to factor in the carrying cost to keep this variety available on hand to have it when you want it.   (*4 oz and larger available at Farmers Markets by advance request; Prepayment discounts available for orders of 8oz and 1# quantities when we do not have that much in stock.)
Thanks to your continued support we now offer bulk pricing on most teas, when you bring your own container in to be filled.
COMMUNI-tea:
Though tea itself does not grow locally, we support other local businesses with our supply purchases; for example – cups from Garrett Paper, honey from local farmers, organic sugar from cane fields in Florida, cleaning supplies from Better Life and Local Harvest Grocery; as well as some tea ingredients from local farms (lavender, mint, pumpkin).
Some custom tea blends are developed with ingredients from local farmers and Cheryl's Herbs in Maplewood.
When you choose Traveling Tea you can rest assured that your money is flowing through your local community in as many ways as we can find possible.
"The only place in St. Louis where I can have stevia for my tea."  [Sweetening options available at Farmers Market include stevia and monk fruit, agave nectar, local honey, and organic sugar from Florida.]
INTEGRI-tea:
Because of my commitment to quality and integrity, I frequently pay more for supplies than many other start-up businesses (compostable, organic, recycled & recyclable options since Day 1).  I pay well above minimum wage to my help.  My business is growing, but I still work a nearly full-time job to pay my own personal bills.
Many of you have been very supportive of my limitations and shared that it is as important to you as it is to me that I stay in business in the long-term rather than trying to be too much too fast.
I GREATLY appreciate your continued support and spreading the word for me.  Hopefully, one day soon Traveling Tea will become my nearly full-time job, so that I can be at more events and make more cust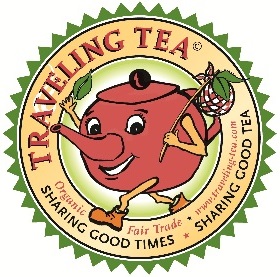 om blends, and whatever YOU want to see in a tea shop.
What my customers are saying:
"I can't go back to drinking what I was before.  Your tea is so flavorful!"
"I only use your tea for my chai."
"I appreciate the tea-specific steeping instructions."
"You've shown me how to appreciate green tea."
"The Trial/Travel sizes are perfect!"
THANK YOU FOR SHARING GOOD TEA!