Teas for the Holidays
12/8/17 update: Pumpkin Ginger Spice, Cranberry Spice, and Turmeric Truffle are almost gone.
Seasonal Holiday Teas are back in stock, including:
Aztec Spice, Butterscotch White, Cranberry Spice, Dark Chocolate Mint, Maple Honeybush, Pumpkin Ginger Spice, Turmeric Truffle (New! tastes like the chocolate oranges popular at Christmas time), Vanilla Berry Truffle
New teas (brought in over past 6 months):
Blacks: Heritage Chai (authentic Indian chai), Singbulli Estate 1st Flush Darjeeling, Yan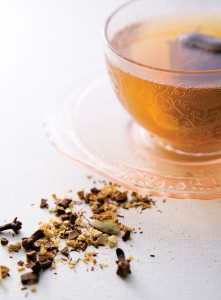 ki 2nd Flush Darjeeling;
Greens: Apple Mint Green, Bi Luo Chun, Heritage Firewood Green, Purple Jasmine;
Botanicals: Cinnamon Apricot Yaupon (not really new, but too long out of stock);
Herbals/Decafs: Buoyant Spa Blend (stress relief), Decaf Berry Black, Mango n Friends, Mariposa Garden, Molly's Berries & Twigs (benefit blend), Rooibos Chai, Rooibos Provence
——————————————————
We have tea inspired recipe handouts available for $1.25, or free with purchases over $10. This handout includes info and suggestions about our popular Tea Syrups.
A new one that we have discovered is making a tea syrup from Mayan Chai, when you mix this syrup with sparkling water it is remarkably similar to Dr Pepper, but you get to control the sweetness level. Butterscotch white makes a lovely cream soda.
Use Mango n Friends and make the simple syrup with honey or brown sugar (simmered on a stove to reduce and make thicker), then use this as an ice cream or dessert syrup. Also lovely with sparkling water.