ALL SEATS FILLED!
Puer, or pu-erh, dark tea made exclusively in the Chinese province of Yunnan, has been made for centuries and recently popularized in America and the world through media like tea blogs, food articles, and even fictional books like Lisa See's, "Tea Girl of Hummingbird Lane."
Attend our tasting for the opportunity to: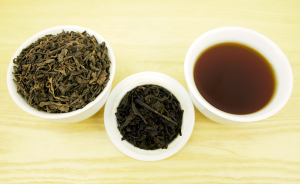 taste higher quality pu-erh than normally found in the US market
learn about processing of this tea and its unique qualities
purchase some of these for yourself
As "Tea Girl of Hummingbird Lane" brings China and puer to a wider audience,we will sample a few teas from the location the book is centered on, Nánnuò Mountain.
Not like your Earl Grey or breakfast blends, or even wulongs (aka oolongs), pu-erh is indeed a tea of its own.
Taste, ask, and learn, as we show you how easy it can be to enjoy quality tea.
Sampling and discussion of pu-erh and other dark teas led by Eric Glass. [Actual tasting session from 1-3pm, with time for shopping after]
Never a coffee-drinker, Eric became interested in tea after a trip to England introduced him to English Breakfast and, thereby, launched a continuing study of tea already ten years strong today.  Aged and dark teas, such as heicha and puer, are among the tea types he enjoys most. He has spent a great deal of time in self-study and reaching out to the larger tea community, as well as traveling to places of origin to experience tea making first-hand.
Reserve your seat here, or call shop 314 647 8832
We will be open on Friday and Saturday for SMALL BUSINESS Shopping – till 6pm on Saturday (when we normally close at 5). Other special shopping hours in December….check our Calendar page
Friday 12/1 is Maplewood Christmas Tree Walk, from 6-9pm  We will be giving away recipes for Holiday Tonics and Tisanes with every purchase over $10 made that night
Sunday 12/3 – 1-4pm – Sit-down sampling session of puehr and dark or aged teas with Eric Glass. $8/person, reservations required. Email will be going out soon with details, or call the shop.
If you missed the class in August 2016, it returns again in February 2017 – traveling to different tea regions (including Nepal and Japan, maybe even some US grown teas, if we're lucky)
2/6/2017 7pm at Missouri Botanical Garden class. Click here to sign up. Reservations close 2/4/17
"Visit" a variety of regions and experience fine handcrafted, organic teas. Learn about the people who create them and how your tea enjoyment aids them and their care of our planet. Find out how the tea world is changing and responding to our demands for sustainability. Learn about Direct Trade tea and how that improves the liv
es of others and expands your tea-drinking options. Lots of tea sampling! Designed
for adults only.