Now that our shop has been open in Maplewood for 2-1/2 years we've noticed sales of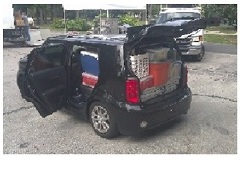 looseleaf tea at the Tower Grove Market to have dropped considerably, AND we've started a new program of selling looseleaf in bulk at the shop IF You Bring Your Own Container.
So, in an effort to control inventory costs, as we keep adding new teas (more than 100 available flavors and varieties now!), we are cutting back on what we Bring to Market.  [Truth be known, I'm getting tired of hauling so many boxes around (after doing this for 7 years) ]
There is a core selection of about 25+/- best sellers that we will ALWAYS have in 1 & 2 ounce packages, plus some seasonal flavors.  Additionally, each week we will bring packages of the teas we are serving that week and a selection of 3-4 "Featured teas".
We will continue to bring Travel Sizes of the full range of our teas, so you can continue to have a cup brewed to order.
The listing of "Always Carry" and "Teas of the week" will be posted on a new page on our website. If you will be visiting the Market and want to pick up YOUR favorites (in any size), please call the shop by 2pm on Friday 314 647 8832 so we can be sure to bring it.
————–
Note for Wash U Market – Galen will have the "Always Carry" + the featured teas in 1 & 2oz sizes AND will still have FULL range of tea selection in 1 ounce sizes only.